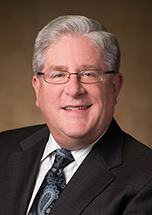 Gary Ellis
Executive Vice President and Chief Financial Officer
Gary Ellis is Executive Vice President and Chief Financial Officer and serves as a member of the Company's Executive Committee. He is responsible for the treasury, tax, controllership, internal audit, IT, operations and investor relations functions at Medtronic. Gary began his career with Medtronic in 1989 as Assistant Corporate Controller. He has served the company in several financial roles including, Vice President of Finance for Medtronic Europe; Vice President and Corporate Controller responsible for the finance and accounting functions for the company; and as Vice President, Corporate Controller and Treasurer. He has been Chief Financial Officer since 2005.
Prior to joining Medtronic, Gary was a Senior Audit Manager for Price Waterhouse where, in addition to several other responsibilities, he managed the Medtronic audit for nearly 10 years. He has worked with several large corporate organizations, as well as providing audit services to numerous non-profit organizations.
Gary received his Bachelor of Science degree in Accounting in 1978 from the University of South Dakota. He is very active in community activities and has contributed many years of service on the Board of Directors and as President of his local church and other non-profit organizations. He served as the Chairman of the American Heart Association Board in 2007-2008 and currently serves on the boards of the Science Museum of Minnesota, the Greater Twin Cities United Way, and the Toro Company. Gary also is a member of the Minnesota Society of CPAs.